The estate today covers 12 hectares of vines and 7 hectares of fields.
We mainly grow red grape varieties: carignan, grenache, mourvèdre and a little syrah.
The whites, muscat and roussanne, are in the minority on the estate.
Image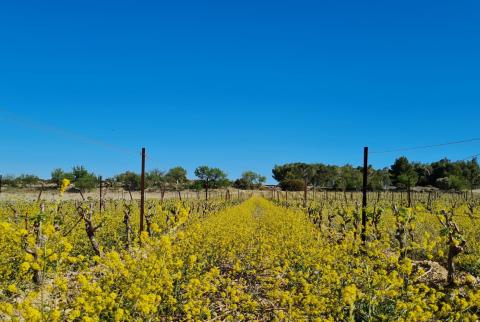 The Muscat vine is also very special because it is often the first vine in France to be harvested. It gives birth to a cuvée: "Les Pépettes".
The other plots of land are scattered throughout the village, at an altitude of 200m as well as by the sea or near the ponds.
The aloe vera plantations are still anecdotal.
They will only develop next year and will gradually take the place of the fields. We will use this year to carry out some of the necessary work: building, pumps and photovoltaic systems.
To avoid errors of hasty judgment, we must also build protocols for monitoring the plantations and extracting the juice.
We are aware that our environment is truly exceptional, and our wines express this too, with iodine notes, with an extra touch of greed and pleasure, and always with passion.
The entire estate is not yet certified in organic agriculture, and the recently purchased plots that we vinify in red cannot yet claim the AB logo on the label... We will have to wait and see.
The domain is also Marie and Laurent.
Marie who vinifies and ages the wines and Laurent who works the vines.
It is also a team made up of Céline, Gilles (who will leave us at the end of the year to take over a business in the east of France), as well as Jean François and Christian.
All these people are essential because we don't subcontract our work, we take care of everything from pruning to harvesting, which is always done by hand.